Are you a sales development rep (SDR) looking for a tool that has similar or better features than Lemlist? or simply looking for a Lemlist alternative? This blog post will help you in identifying the most suitable Lemlist alternative tool as per your needs and goals. You could have multiple reasons for searching for a Lemlist alternative tool. Probably a particular feature that you feel is missing could be the pricing. In this blog, we have listed the 7 best Lemlist alternatives that will make your email outreach campaign run successfully. You'll find pricing, key features, and ratings that will help you shortlist and select an apt Lemlist alternative that would eventually turn your prospects into high-paying customers.
G2 Rating: 4.8/5
SmartReach is a sales enablement software specializing in email outreach. As a cold email software, it could easily be your replacement for Lemlist as it consists of all features that Lemlist provides at a lesser cost. Some of the features that can help you make decisions are listed below:
Features:
Use the Dynamic email content feature to add conditional statements, unlimited merge tags, and send hyper-personalized emails to targeted prospects. 
SPAM test, Email validations, Campaign soft start,  A/B test, and missing merge tags are some features that SmartReach offers to increase deliverability and open rates.
With Prospect feed get to know the most engaging prospects and their interactive activities. Custom tags categorize the prospects based on the actions taken by them. 
Through Dashboard reporting keep track of open, reply, and click rates and get to know the campaign performance.
Check the progress of the team members, and share templates and prospect lists with them through the team inbox. Senior management can easily monitor the team activities from the team inbox.
For lead generation, SmartReach offers specific features for agencies.
Flexible workflow automation and webhook integrations to sync activities with different CRMs and tools.
Integrate natively with popular CRMs like Hubspot, Zoho CRM, Pipedrive, and Salesforce. Also, integrate with 3rd party platforms via Zapier.
Check out a detailed comparison of Lemlist with SmartReach.io
SmartrReach.io Pricing:
Free trial period for 14 days.
The individual plan for 1 user starts at $24, the business plan starts at $99 for 5 users and the Agency plan starts at $199 for 5 users.
Yesware G2 Rating: 4.4/5
Features:
Yesware is a platform where the sales team can prospect, schedule, and manage campaigns in one place.
Track the emails, keep eye on prospects' activities, and get a notification once the prospects read emails or click links.
Schedule and manage meetings easily by integrating Yesware's meeting schedulers with Outlook and Gmail.
Create different campaigns on numerous platforms. The Dashboard shows weekly or daily email performance and execution.
The Campaign and Template reports help users find high-converting templates and campaigns.
Integrate with Salesforce CRM software.
Yesware Pricing:
They provide a free trial for 14 days.
The Pro plan is $15 per month. The Premium plan is $35 per month. The Enterprise plan is $ 65 per month. They also have a custom plan.
Gmass G2 Rating: 4.7/5
Features:
Gmass is a chrome extension that automates and sends emails from Gmail. This plugin only works on Google Chrome.
The Email Reporting Analytics gives a complete report of opened emails, replied emails, and bounced emails.
Based on the action taken by the prospect for the previous email, the user can send a follow-up. For example, when a prospect clicks a link from an email, Gmass sends a follow-up.
Import contacts from the Google Sheets file easily.
Because of its fair cost, it can be preferred as a Lemlist alternative.
Integrate with 3rd party platforms via Zapier. It also provides integration with CRM software Salesforce.
Can be used only with Gmail and used only for bulk emailing.
Email tracking is not available and hence follow-up sequences are challenging.
Gmass Pricing:
Free plan offers only 50 emails per day
The Standard plan is $19.95 per month, the Premium plan is $ 29.95 per month and the Enterprise plan is $49.95 per month. For Team, they have a Premium plan of $125 per month.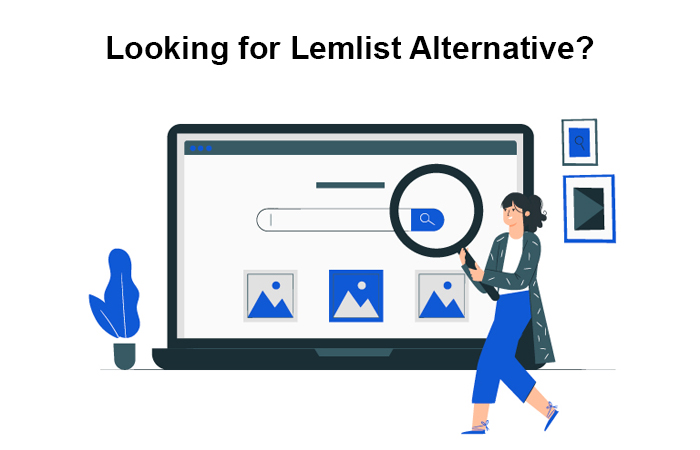 4. Reply.io G2 Rating: 4.6/5
Features:
Reply.io is a user-friendly sales platform. Connect to prospects through emails, LinkedIn, Whatsapp, and calls.
Reply has a simple UI, which makes it user-friendly.
The quality checker examines the email copy so that it doesn't disturb the open rate and click rates.
Advanced AI classifies the emails into 6 categories which makes it easy for users to concentrate on the interested customers.
The LinkedIn Email Finder extension feature makes it easy to search for prospects' emails.
Integrate with CRM software like Salesforce and Pipedrive. It also provides 3rd party platform integration via Zapier.
Reply.io Pricing:
A free trial for 14 days is available.
The first plan is $70 per month, and the second plan is $60 per month. The third plan is $ 50 per month.
5. Klenty G2 Rating: 4.6/5
Features:
Klenty is a sales engagement platform that helps users to engage with prospects through multi-channel service and it takes action to turn them into paying customers.
Sync emails open rate, click rate, and replies to your CRM effortlessly. See email performance on the dashboard.
Boost your team's performance, with insights you can help them to reach their sales goals.
Connect to prospects by sending a connection request on LinkedIn also add a personalized message for the prospect.
With Cadence Throttling set daily limits of emails for cadence and increase sender reputation.
Integrate with CRM software like Zoho CRM, Pipedrive, Hubspot, and Salesforce.
Klenty Pricing:
Start with 14 days free trial.
The startup plan for small teams is $35 per month. The Growth plan for growing the business is $60 per month. The Enterprise plan for advanced teams is $100 per month.
6. Woodpecker.co G2 Rating: 4.⅘
Features:
Woodpecker is a cold email software that helps in cold emailing and sales automation. It makes sure users get a high deliverability rate.
The built-in email verification and validation system take care of email deliverability.
To stay away from spam the emails are sent with a proper time gap.
The A/B test analyzes the different cold emails and compares which email will work for the campaign and will increase the open rate.
It also provides features for agencies, which help users to control all the client's from one panel.
Natively integration with CRM software like Hunter, Hubspot, Salesforce, and 3rd party platform integration via Zapier is also available.
Woodpecker.co Pricing:
Get a free trial for 7 days or 50 cold emails.
Plans start at $39 per month.
7. Saleshandy G2 Rating: 4.5/5
Features:
Saleshandy is a cold email and sales engagement tool. Send mass emails at one time, with personalization. Personalize the templates using merge tags.
Create a follow-up sequence with proper intervals and track the analytics.
Saleshandy notifies instantly as soon as the email is opened by the prospect so that users can take the right action at the right time.
Email tracking plugin for Gmail and Outlook easily gets integrated with email and keeps a record of open rates, click rates, and replies.
Saleshandy also provides a Gmail and Outlook plugin that helps users to keep track of emails.
For prospecting, use the LinkedIn email finder extension and find valuable emails of prospects.
3rd-party platform integration via Zapier is available. Saleshandy is an affordable and convenient tool and a good Lemlist alternative.
Saleshandy Pricing:
Get a free trial for 14 days.
The basic plan is free, the Regular plan is $9 per month. The Plus plan is $22 per month.
Choosing software with similar features as Lemlist could be simple, once you have identified the metrics you want to improve in your sales outreach. We suggest you analyze and compare the above-suggested tools with Lemlist to see which software fulfills your needs the best. If you have any suggestions regarding features mentioned in our Lemlist alternative blog then leave a comment or contact me at sales@smartreach.io