Digital transformation is slowly changing the way we connect, and communicate with our prospects and clients. Most B2B companies are shifting their focus towards finding digital solutions to streamline their lead generation strategies, boost their sales and increase their customer happiness index. Amongst the three, Lead generation is key to the growth of any B2B business. A strong lead generation strategy in digital marketing could increase sales in a few months.
If you are looking for how to generate leads in a digital marketing agency, here are 10 lead-generation strategies that would drive maximum conversions.
Email Marketing
● 59% of marketers point to email marketing as being the best channel for lead generation. The very fact that you have someone on your subscription list means they are a potential lead but smart email marketing is vital (along with some hands-on sales work and lead scoring in place) to understand whether that particular lead is viable or not. If one has the right communication and content in place, generating great B2B leads is easy, you just need the right cold email software.
● Smart email marketers invest time and effort in learning how to use cold email software. Once that is achieved, it is important to properly scrub the emailing list before even using any email sending tools. If you wish to have higher open and engagement rates, it is extremely important to put in great effort to ensure that your list is cleaned and vetted. Cold email software tools (like SmartReach.io) helps you save a lot of time by automating a few of these processes.
● Even while using this approach, the email mustn't sound too monotonous and devoid of creativity. If possible (and appropriate), make good use of images, and diagrams to attract the attention of prospective clients.
● SmartReach.io is a cold email automation tool designed to help you generate a continuous flow of leads and convert leads into revenue-generating clients. The very fact that it helps you set up auto-responses and auto follow up emails, lead nurturing becomes easier thereby ensuring higher conversion rates
Blogging
● Blogs help to generate leads and traffic but there is no guarantee that they will translate into great businesses. A lot of your results depend on the strategy you employ to write blogs. Start blogging about what really helped, real experiences rather than just opinions or textbook solutions for digital marketing solutions. Once you can generate blogs with decent content, coupled with SEO optimization we are confident that in due course it would generate good traffic. One can convert this traffic into potential leads
Web Page Optimization
● Your website is the main source of diverting all the potential leads and traffic, so it is extremely important to have a properly maintained and functioning website.
● Website loading errors, lag time, multiple pop-ups, complex user interfaces have the potential to drive away traffic rather than bring in more. There are many tools available that can help you scan your website for any errors and also help to create higher dwell time through better engagement tools for your prospective users.
Your domain's Google Search Console page has a section for Core Web Vitals, here you could learn about stuff that you need to optimize.
● It is important to maintain data. Create an analysis report of prospective clients or companies that have viewed your website especially in terms of sales-specific marketing. This data could later be shared with sales representatives who could use sales follow-up software tools coupled with a well-designed sales pitch to land more clients.
Optimize your Mobile Traffic
● Mobile has a higher performance and traffic as compared to desktop. It is Evident if you only analyze and compare both platforms over the period of the last 5 years. If your sales and marketing team is not prioritizing mobile performance or even for that matter keeping it on a level playing field alongside your desktop web pages then you are really missing out on a lot of potential traffic which could be potential leads in the near future. Remember that Google follows the mobile-first indexing approach, hence ensure that your mobile pages work well.
● Ensure simple things like making sure your mobile site has a clean interface, easy to navigate, forms are working, etc. Many sites on mobile are often very cramped up with several pop-ups, live chat tools, competing for CTA's, etc. One can get away with all this on desktop but on mobile, you have to be very clear with the kind of information and tools you want to feed in.
● Even small changes with relation to making the user interface easier for users, clients, and businesses can lead to higher traffic.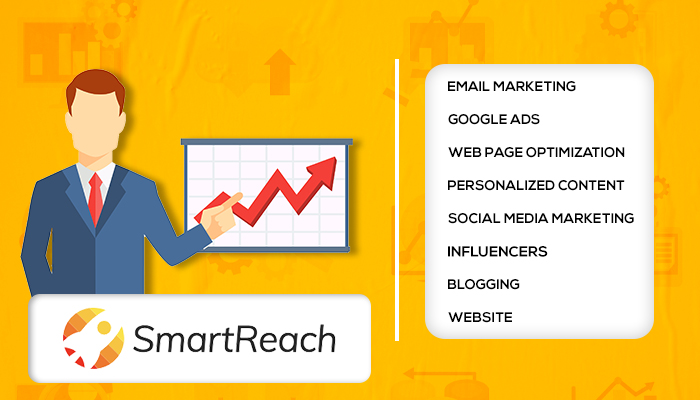 Google Ads
● Over the past few years, Google Ads have emerged as a great tool for grabbing leads for your brand. In most cases, Google ads help to convert potential visitors into leads.
● One needs to ensure that the three T's of search-based web engine ads are taken into consideration and executed perfectly namely – Targeting, Tracking, and Time. One can gain perfection over the above set parameters by analyzing one's data.
Personalizing Your Content
● It is very important to create personalized content to engage your end-user or prospect, a generalized landing page won't really be helpful, thus lowering the conversion rate from prospect to client.
● For example, you should create content considering your potential prospect spectrum. Your prospect could range from CEO of a company, Dean of a University, or a Business Head; create communication that is based on this broad spectrum.
● Identifying prospects' needs, objectives and trying to fulfill that in the best way possible through your communication and content can help generate more leads.
Social Media Marketing
● Social Media Marketing means the use of platforms like Linkedin, Twitter, Facebook, Instagram to promote your product, services and engage your clientele, develop your brand, maximize sales and increase web traffic which could then be converted into potential leads.
● One has to adopt different strategies on different social media platforms depending on the target segmentation of their clientele and many other parameters to achieve excellent results.
● Social Media Marketing is already both the present as well as the future of lead generation strategies in digital marketing and will form a major part of the same for a long time to come.
Gratifications or Giveaways
● Although digital giveaways are not a solid approach to generate leads, this approach has a decent conversion rate. The sales closed from these leads are normally high value.
● You can give away a free tool or create a contest to engage with customers. Gratifying users with products or services in digital marketing could be a good way to attract traffic as everyone likes gratifications.
● The process of Gratification can help in potential lead generation in digital marketing and these leads if nurtured well can be converted into paying clients.
Marketing or Brand Partnerships
● There are certain brands in the industry that already have a wider audience, greater influence, and strong connections. One can identify such brands, build partnerships with them and use their influence coupled with your already existing brand presence to form strategic partnerships thus increasing your brand value and also your potential client base.
● Influencer Marketing is also another approach that can be used to reach a specific niche audience. Marketing or Brand Partnerships should mutually benefit both parties, else they normally don't last too long
Cold Outreach
● Though other forms of marketing can drive a very good ROI that doesn't mean that cold outreach can't be effective for lead generation in digital marketing.
● Cold calling and cold emailing if done in the right manner can deliver really good results. One needs to know their ideal customer profile, identify all their characteristics and find the right set of people. Basically creation of user persona. Once that is done, it is important to do thorough research. Unfortunately, businesses miss out on key points with the most important one being PERSONALISATION. Remember that you are going to be sending out communication to a complete stranger and hence your communication will need to instill RELIABILITY, TRUST & CONFIDENCE.
● Research, Personalisation, Automation & Measurements are key metrics that could make or break your Cold Outreach Campaign. This is a very tedious process but a very effective one. Businesses across the globe use cold email software like SmartReach.io to send cold emails.
Now that we've discussed the best possible ways to generate leads for your business, it is important to have follow-up mechanisms, sales pitches/templates, and sales offer in place.
Most businesses fail to have a proper follow-up mechanism. Historical data has shown that the chances of users getting convinced to buy a product or service online are higher on the second go than on the first one. Email follow-ups play a great role in reminding customers about your service or product. A well-articulated Sales pitch combined with an irresistible offer would greatly impact the chances of converting a prospect into a client.
__________
At SmartReach.io, we have given a new dimension to email follow-up systems. With SmartReach.io you can automate the email follow-up process. Try SmartReach.io for free (free trial period) and put your email outreach on autopilot.